In the Workshop: Kye Darcy
As we introduce our Classics collection; thoughtfully designed to be our tried and tested styles and made purposefully for like-minded individuals that share an interest in the Rhythm lifestyle, we celebrate the creative community of individuals and friends that inspire and pioneer in different avenues and fields.

Kye Darcy is an entirely self-taught craftsman living here near Burleigh Heads and became the perfect creative and friend to celebrate with our release. Born into a family of creatives and raised working alongside his Dad in their family hand shaped surfboard business, D'Arcy Surfboards, Kye was destined to pursue a career that involved him being innovative and getting his hands dirty.

Photographs by Tim Reed Interview by Jake McCann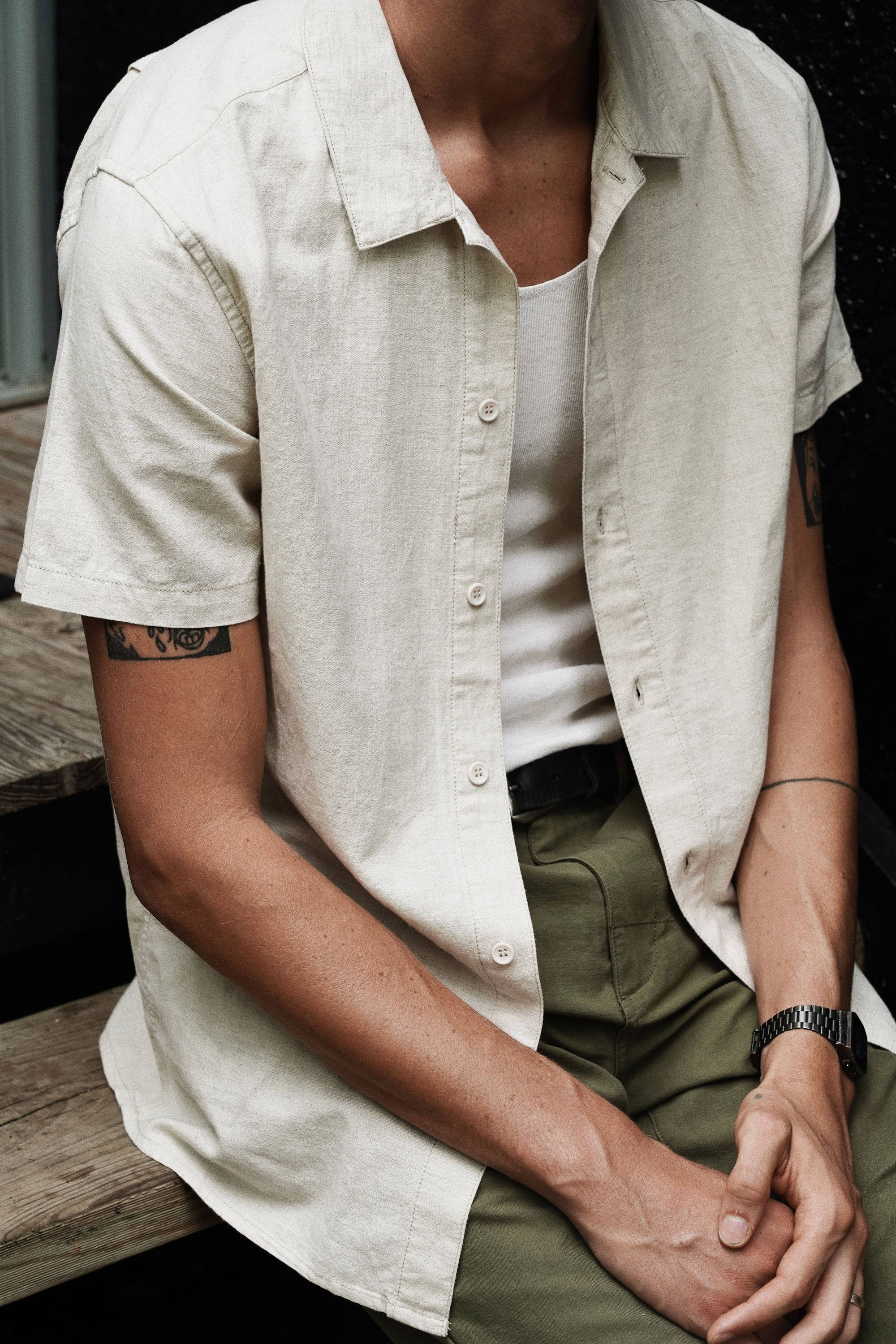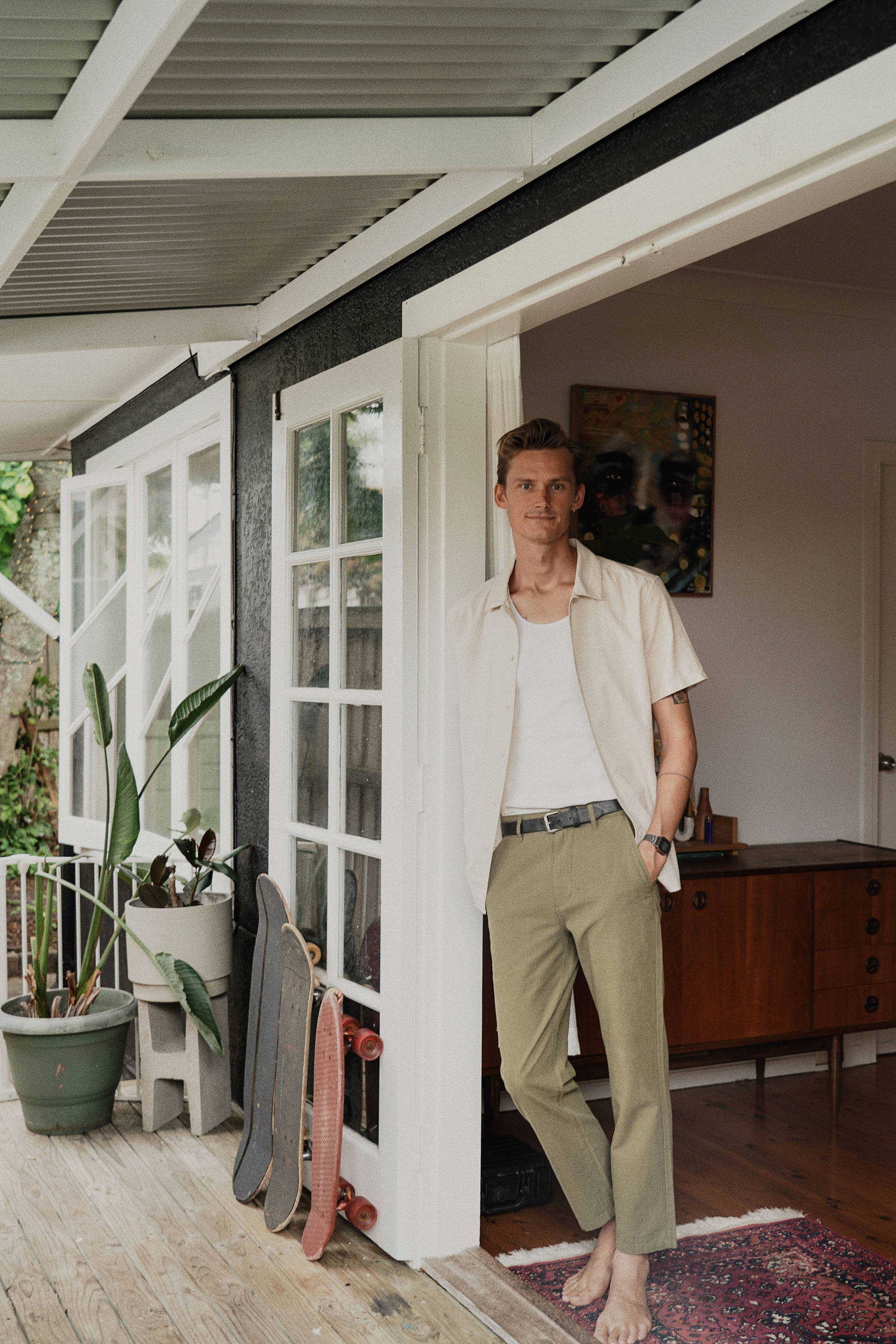 R: What was it like growing up here on the coast?
K: The Gold Coast has changed pretty drastically in the last two decades. Growing up here as a kid was great as I devoted most my time to skating and surfing. The beaches are beautiful and the waves are amazing most the time but back then as far as culture or even a place to get a decent coffee it was lacklustre. I moved overseas before I was 20 which was probably good timing as night life and coffee culture become a priority as an early 20 year old and there wasn't much of it here. Having two kids of my own now I wouldn't want to raise them anywhere else, it would be hard to get bored here as a kid.
R: How was it growing up with your old man as a surfboard shaper?
K: Free custom boards for life! Pretty much sums it up. Haha. My old man (D'Arcy surfboards) is well respected on the Gold Coast and in the surfing industry as a whole. Growing up with most people out in the line up knowing you as Darcy's son came with its benefits and I guess it allowed me to get away with being an annoying little shit paddling up on the inside. Now as an adult I haven't really grown out of it. Old habits die hard.
R: What originally took you overseas to NYC?
K: Funnily enough it was the same reason I went overseas to begin with. I began modelling right after I finished school and got offered a contract in Milan, Italy. I pretty much drifted around the world for nearly a decade being a semi successful model but for the most part I was broke and living on cigarettes and free drinks.
R: How was it your passion for woodwork was ignited over there?
K: Creating has been handed down to me from my parents. When I was a kid I was always drawing or playing with lego or shaping mini surfboards with dads off cuts in his bay. Although it was not obvious to me, I was bound to fall into something creative - I originally wanted to be an interior decorator. In NYC my wife Renee and I had a loft apartment in Brooklyn. I had endless amounts of down time between castings while Renee was working full time in the city so I naturally took on the role as the house keeper. My favourite thing being cleaning and rearranging the house. I started by finding odd bits of furniture on the street and bringing them home to fix them up. You can find the most epic furniture on the curb in Brooklyn. Then Renee got me some basic tools for my birthday one year and I evolved to making actual furniture of my own in our kitchen. Our room mates were getting pretty fed up with all the saw dust in the kitchen but they appreciated the home cooked meals and the new dinning table to eat at. That's pretty much where it started.
R: What then brought you back to Australia?
K: Renee and I found out we were pregnant. It was bit of a surprise as we were both sorting out our visas to stay another couple years. But having a baby there wasn't an option for us. And like I said I couldn't imagine raising kids anywhere other then here on the Gold Coast.
"I started by finding odd bits of furniture on the street and bringing them home to fix them up. You can find the most epic furniture on the curb in Brooklyn"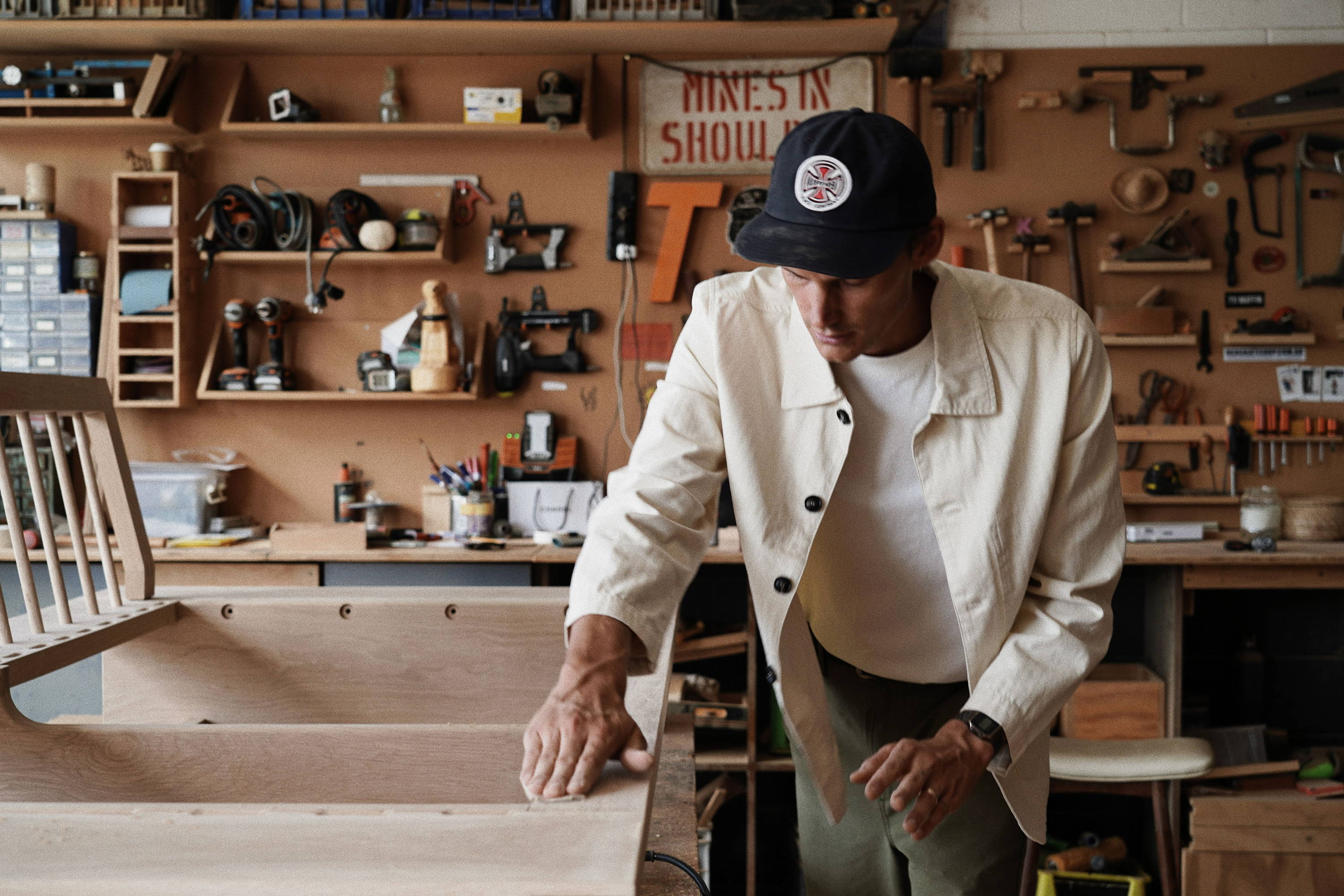 R: And you started working for the crew down at Found Furniture?
K: I went on to modelling full time straight out of school and didn't have a conventional career path so when we found out we were pregnant, I really had to pull my finger out and choose a career path right then and there. I never considered being away from my family to work overseas and was honestly craving some stability. Woodworking was the obvious choice and a dream already but seemed so unreachable. I had no qualifications, no experience and pretty much no idea how to get my foot in the door. Found furniture is a fairly well known mid century modern vintage furniture shop on the coast and somewhere I went on occasions to waste hours looking at every little piece. I would always leave telling Renee how one day I would work for them.

Renee pretty much forced me to just ask. So I did. They hired me on the spot, turns out a bit of enthusiasm goes a long way. It's no secret Matt and Kelly (found owners) really took a punt on me that day and I wouldn't be where I am today without them.
R: Were you experimenting with your own custom pieces right after you started with Found or did you sort of absorb the experience and begin creating later?
K: The owner of found – Matt, is really knowledgeable in restoration, he showed me everything he knew which I was very keen to take in. In order to fix furniture you have to know how to make furniture. Seeing the ins and outs of hundreds of different pieces by many different famous designers allowed me to essentially reverse engineer and learn the craftsmanship backwards. Pulling things apart and putting them back together again. Being a natural creator I started to dabble in designing and making my own pieces once I had an understanding.  
R: Plans for the coming year and beyond?
K: Darcy D is still so young but the road ahead is looking bright, each year brings on more clients and more work. We are pretty much going to just keep doing what we're doing. My passion to design and to create is stronger then ever. My moto, though it's corny as hell is "do what you love and the rest will follow". It's hasn't failed me yet.